INTEGRATED TERMINAL ARGENTIA
Located in Placentia Bay, the busiest commercial bay in the province, Argentia is at the heart of the Newfoundland industrial scene.
Our terminal is:
125 km from St. John's, the main industrial and residential hub
95 km from the North Atlantic Oil Refinery and Offshore Oil Transhipment Facility
90 km from the Bull Arm Fabrication Facility, which is site for the Hebron mega project
38 km from Long Harbour and the Vale Inco Hydromet mega project
in close proximity to all Offshore Oil projects happening in the province
Argentia was originally developed by the US Army as a Naval Base. Because of this, the port area still has an abundance of lay down and storage space. We can combine our efficient services with the over 180 hectares of available space to provide the right service for your business. Integrated Logistics is ready and able to handle all of your industrial supply.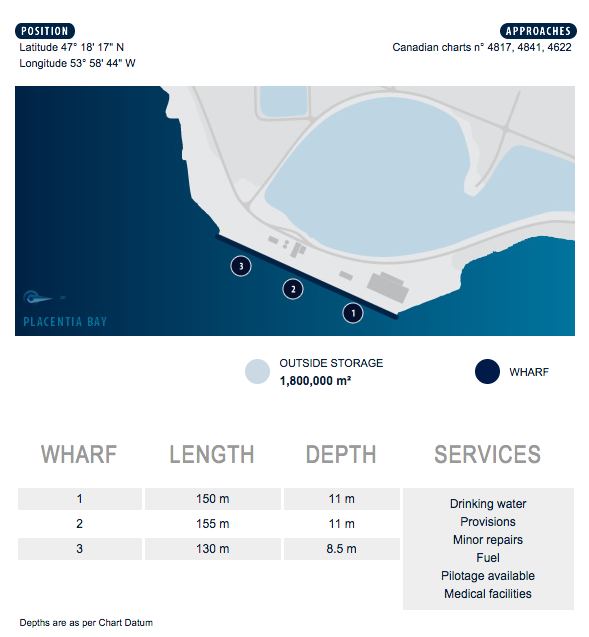 Long Pond Terminal
96 Terminal Road, Conception Bay South NL , A1X 7B6, Canada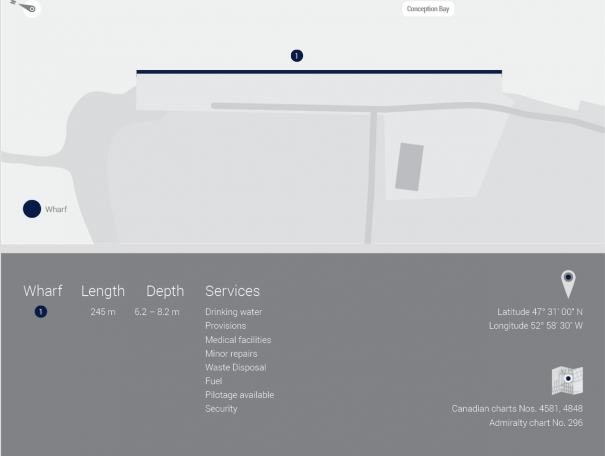 TECHNICAL
Section   Length  Width    Depth
1            245m     13m   6.2-8.2m
Bearing Capacity
MS 250-24 kPa (500 PSF) UDL*
Construction
Steel "H" piles/concrete jackets, concrete caps
Deck Type 
Reinforced concrete
Fendering System
Creosoted fender piles/rubber tires
Entrance channel is 50m wide with limiting depth of 8.2m. Turning area in harbour extends 135m off the wharf with limiting depth of 7.3m near wharf face. Maintenance dredging ongoing. Confirm with regional office.
Goose Bay Terminal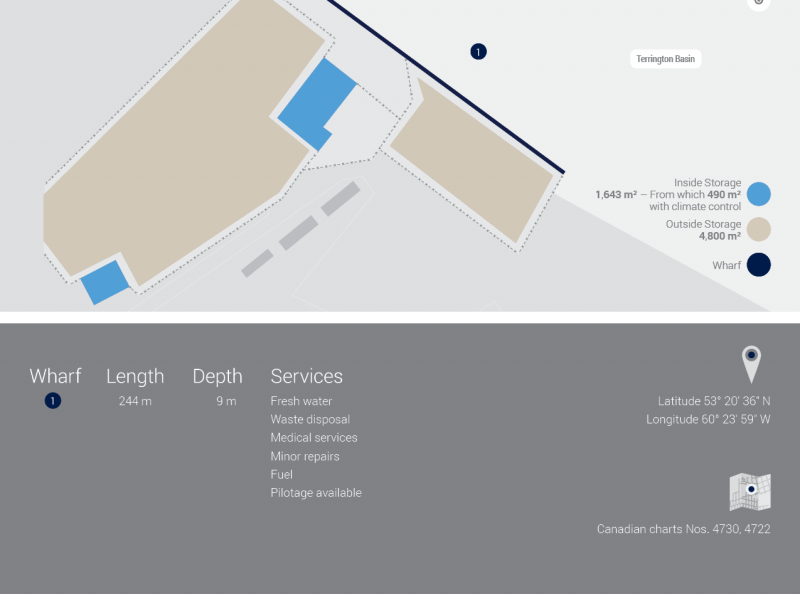 The Port of Goose Bay has one industrial dock. The Main Dock is a 244 m long by 15 m wide marginal wharf with 9 m. minimum water depth on the west side and 5.6 to 9.1 m. minimum water depth on the east side. The main storage shed is 53 m by 31 m. Other infrastructure includes asphalt and fuel tanks and a transshipment warehouse. There is also a substantial area of lay down space. Within easy access of the port there is a large amount of land that could easily be converted to suit a variety of industrial needs."